Summer is the season for barbeques. However, grilling your meat and vegetables to perfection is not as simple as you may imagine. It takes the right kinds of tools, good quality ingredients and skill to produce those juicy, perfectly grilled burgers, steaks, sausages and veggies.
Here is a list of BBQ accessories that you need to ensure that your summer BBQ is perfect.
Stuffed Hamburger Press
A cheeseburger is a classic, however, something better than having cheese on top of your hamburger is having cheese stuffed inside your hamburger. And if you get yourself the stuffed hamburger press, then you can make those stuffed cheese burgers at home.
Meat Shredders
If you are barbequing large cuts of meat, then heavy duty meat shredders can be handy tools to have. They help you shred meat easily so that you can enjoy your pulled pork or chicken.
Cedar Planks
Another great accessory to help with your BBQ preparation in summer is the cedar plank. These planks hold moisture well and also infuse your meats with a smoked cedar flavour. To make things even more interesting, you can soak your cedar plank in apple juice, beer or even wine before you put it on the grill.
Grill Press
If you are planning to grill thin cuts of meat such as bacon, then a grill press is a must-have BBQ accessory. This tool will prevent your bacon or other cuts of meat from curling as they cook. Additionally, you can make grilled sandwiches and Paninis on your BBQ using the grill press.
Instant Marinator
One of the most painful things about BBQ is the marination process. You usually need to marinate your meat or veggies for hours before you can even get down to barbequing. With the instant Marinator, your food is seasoned and marinated in less than five minutes.
Grill Basket
If you like fish or even veggies, then one of the things you need for BBQ in summer is a grill basket. The basket's wire holder will allow you to cook even the most delicate foods with ease.
A Good BBQ CookBook
If you are planning to BBQ this summer, you should also getting help from seasoned professionals. One really good cookbook is Iron Chef Michael Symon's Carnivore, which is a collection of 120 BBQ recipes for meat lovers. This cookbook also has recipes for sides.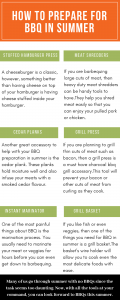 A Portable Grill
Now, you don't need to worry about not being able to grill if you're on the go. You can get yourself a portable grill so that you can grill wherever you want.
Meat Tenderizer
One way to tenderise meat is by using a hammer or even tenderizing powder. However, a more fun way is to use the DCI Knuckle Pounder Meat Tenderizer. Enjoy the process of tenderising your meat!
Meat Rubs
Meat rubs are a great way to season you meats before BBQ. One of the best meat rubs in the market today is Bad Byron's Butt Rub, which is a spicy seasoning that is completely gluten free. The best part is you can use this rub, not just on meats, but also on veggies and fries.
Grillbots
One of the biggest drags to grilling is the cleaning up. However, that can be taken care of if you use a grillbot. Grillbots can clean your grimy grills in less than 7 minutes.
Many of us go through summer with no BBQs since the task seems too daunting. Now, with all the tools at your command, you can look forward to BBQs this summer.
Read More