Household cleaning products are unlike cosmetics, beverages, and food, among others. One simple reason is that manufacturers of these products are not required by federal law to disclose the ingredients used. This means that a simple lack of oversight could possibly lead to inhalation of toxic chemicals. Hence it is important to determine which of them are toxin-free and what purposes they serve.
Add to this the fact that companies tend to make it difficult for customers to gain knowledge about their products. Fret not, though. Here are 7 toxic-free cleaning products that you can use safely in your home.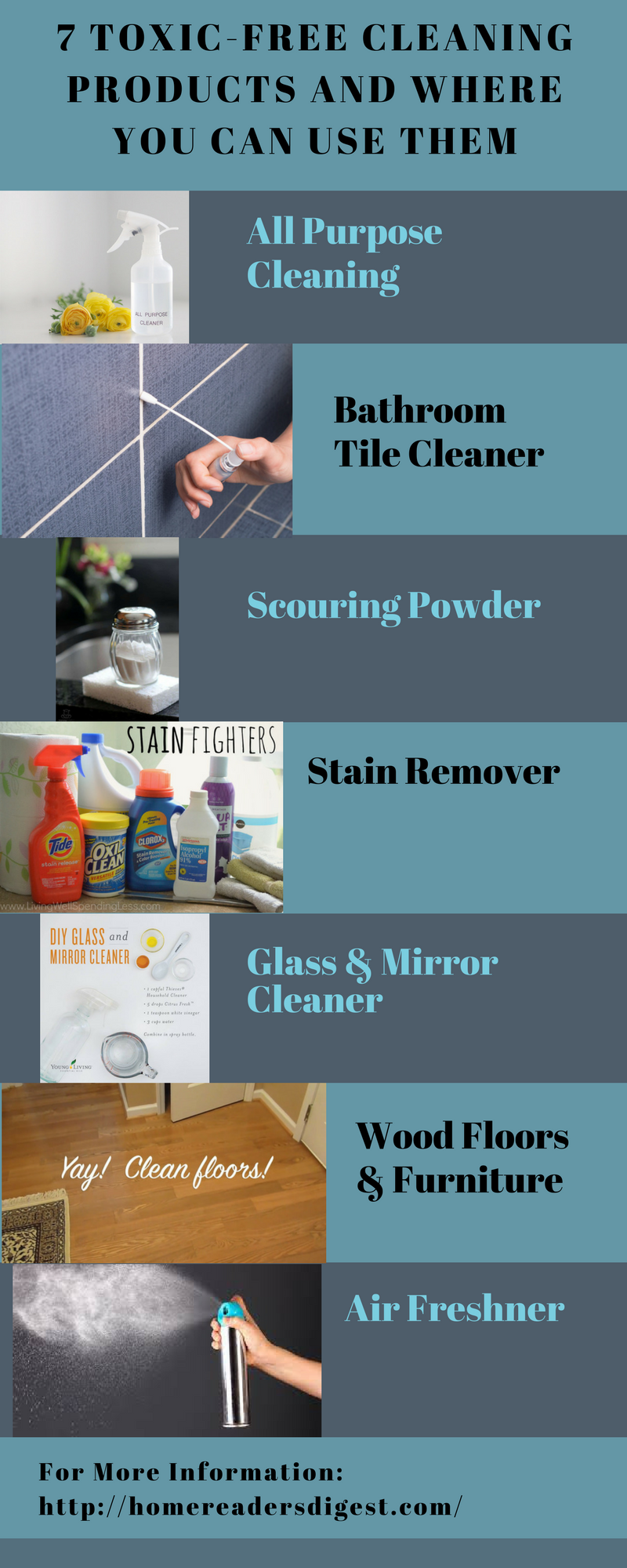 #1. All-Purpose Cleaner
There are various brands of all-purpose cleaners in the market, but perhaps the most popular ones are Clorox and Mr. Clean. However, these two are proven to contain antibacterial agents that are either respiratory or asthmagens irritants. A good alternative is none other than Truce All-Purpose Cleaner, which is a simple yet effective mixture of rubbing alcohol, water, soap flakes, peppermint essential oil, and hydrogen peroxide.
Where you can use it:
Floors
Countertops
Appliances
Walls
Tip: Although this all-purpose cleaner is proven safe, it is still best to wear gloves and masks.
 #2. Bathroom Tile Cleaner
Over the course of time, ECOS (aka Earth Friendly Products Shower Cleaner) has proven to be a much healthier option for any bathroom cleaning needs. It has a formula that incorporates a number of plant-based solvents, pH adjusters, surfactants, and water softeners. It even has natural antimicrobial effects found in tea tree, aloe vera juice, and lavender essential oils.
Where you can use it:
Bathroom tiles
Shower doors
Sink
Faucets
#3. Scouring Powder
Want to bring the glory back to your metals and porcelains without the risk of inhaling toxic chemicals? Products like the Bon Ami Powder Cleanser are definitely one of the better options. It is made of baking soda, coconut oil, feldspar, palm oil, soda ash, calcium carbonate, and alkyl polyglycosides. It is a much better product to use compared to Ajax and Comet, both of which contain harmful ingredients.
Where you can use it:
Ovens
Bathtubs
Fixtures
Sinks
Floor tiles
#4. Stain Remover
Tired of all those stubborn stains you see on a daily basis? Well, it is time to say good bye to them without using chemical treatment. A great product to use, for example, is Fit Organic Laundry & Carpet Stain. Being a 2-in-1 product, it made of potassium hydroxide, citric acid, coconut oil, ethanol, glycerin, sunflower oil, and soapberry fruit extract.
Where you can use it:
Clothing
Carpets
Rags
Upholstery
Bed Sheets and Pillow Cases
Car Seat Cover
#5. Glass & Mirror Cleaner
Attitude Window and Mirror Cleaner has become a popular product in the market these days, thanks to its earth-friendly formula. It is made of water, denatured alcohol, coco glucosides, and lauryl. The latter, in particular, is basically a plant-derived surfactant. But unlike bigger brands of glass cleaners, it does not contain any asthmagen irritant. Hence it is safe for your skin and eyes.
Where you can use it:
Car windshield and side mirrors
Glass Windows
Mirrors
#6. Wood Floors & Furniture
Cleaning wooden surfaces is not an easy task to do, as they require a little bit of special treatment in order to properly clean and condition them. Also, this special treatment will not damage the wood's natural oils that are responsible for bringing elegance and beauty. A perfect product that can get the job done is Truce Wood Cleaner, which is simply a mixture of vinegar, olive oil, and guar gum. Scented with essential oils derived from orange and lemon, this is a perfect cleaner for all of your wood floors and furniture woes.
Where you can use it:
Wood tiles
Wooden surfaces
Furniture made of wood
Fixture
#7. Air Fresheners
Of course, the entire cleaning ritual is not complete unless the room is filled with a pleasing aroma. But like the aforementioned harmful products, you should be wary of any artificial fragrance since they can cause asthma, allergies, and even skin irritations. For starters, a good product will be Aura Cacia Room & Body Mist. It is an excellent alternative to market mainstreams such as Glade Plugins and Air Wick. This alternative is only made of water and essential oils from three types of lavender (i.e. lavandin, lavender, and spike lavender). You can use this anywhere in your home that requires a sweet-smelling atmosphere.