Finding the right sofa that will be there for the next years of your life is really an important issue. And if you just buy without doing your homework, or at least asking the salesman the right questions, you will end up regretting. Buying a sofa is an investment after all. But with a plethora of options on the market, choosing the perfect one is like finding a needle in a haystack.
Do yourself a favor and use the tips below to have a clear idea of what you want before you decide to buy one. Keep these tips in mind all the time!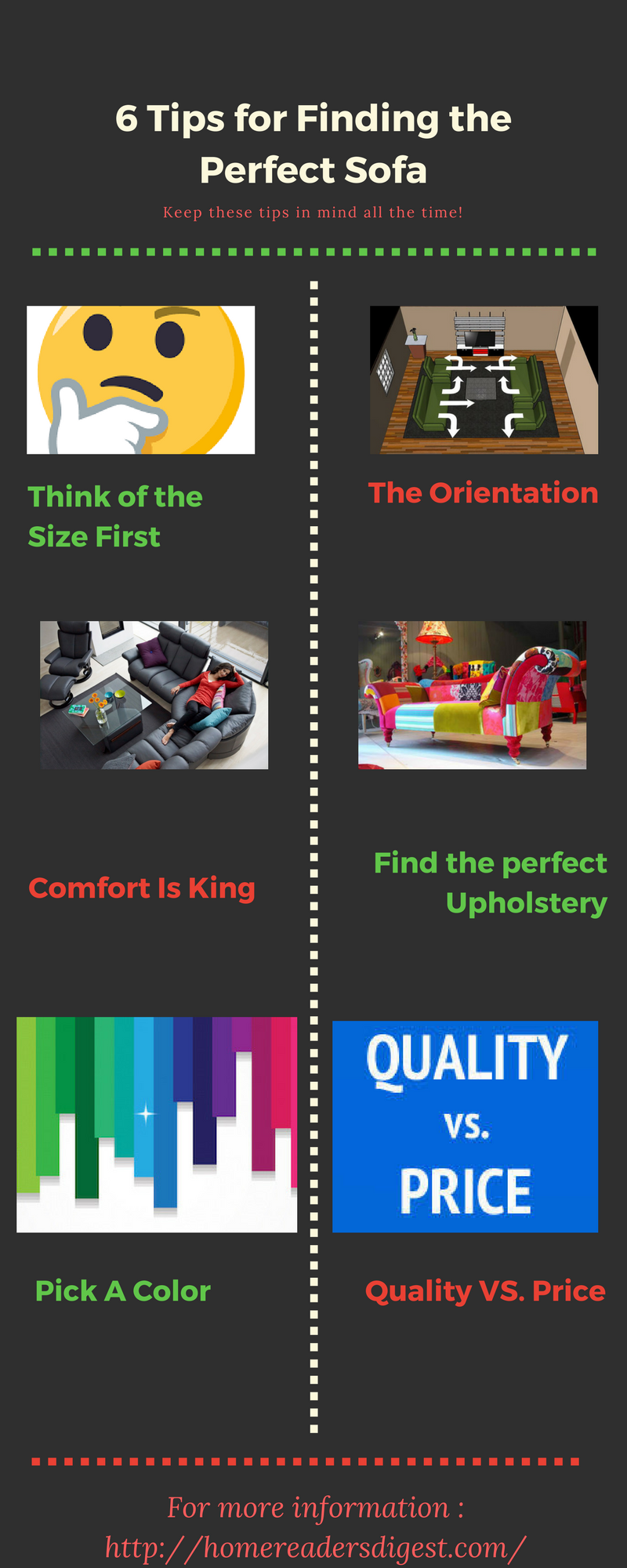 #1. Think of the Size First
This here is your first and foremost priority. If you have a bigger living room, it is only right that you choose a larger sofa. Of course, though, you need to consider other factors and weigh each of them accordingly. For instance, you will need to decide if you need extra couches and chairs. Otherwise, it would be best for the sofa to fill in space. Just keep in mind that your sofa will be the main focal point in your living room.
#2. The Orientation
Want to know the secret behind a successful living space organization? The answer is simple: Analyze your lifestyle. Ask these questions yourself:
What do you usually do in that area?
Would you want to wind down and enjoy watching a movie?
Are you fond of inviting guests for some game and liquor nights?
As you can see, these questions are designed to determine the kind of lifestyle you do in that area. This is where you need to tailor-fit your sofa in order to accommodate that lifestyle. Only you can answer this one here.
#3. Comfort is King
No matter the size or price, your sofa should offer you comfort above all. Just sit and lie down so you can see if it is comfortable enough for you. Do not worry – the salesman would not mind. You have to be cautious, though. That is because you need to be specific with factors that define your own comfort. A sofa that is fluffy does not necessarily mean it is going to give you comfort.
#4. Find the Perfect Upholstery
This is without a doubt one of the most important decision you will have to make when finding the right sofa. Make a bad choice and you will end up with a sofa that easily wears down over time. The idea is to find the upholstery that perfectly matches your everyday lifestyle. To better understand what this means, check out these questions below:
Do you live with pets such as cats and/or dogs?
Do you have kids who are fond of playing around your living room?
Do you require a sofa that does not easily accumulate dust?
Do you find it difficult to clean your sofa on schedule?
You need a sofa that has great upholstery, one that does not easily get scratched or destroyed. A simple opening is already enough to bring down your sofa's aesthetic appeal. That is not good, right?
#5. Pick a Color
You can either go for a single color or, better yet, a combination. When it comes to buying and owning a sofa, do not be afraid to choose the right color. Be meticulous and do not rush yourself. Examine which color would fit your living room design. If you want a combination, make sure it complements the area. If you want, though, you can always seek the help of an interior designer. He/she is an expert in finding the right color patterns, borders, and textures.
#6. Quality vs. Price
Sometimes, you might be easily persuaded to buy a product simply because it is affordable. But when it comes to buying a sofa, never compromise the quality. Sure, you might spend a bit more, but the quality you will be getting is top-notch. You will basically get your money's worth. But if you resort to cheaper options, you might be surprised to find out that after a few months, your sofa is already deteriorated. At the end, you would still spend money to either get it repaired or replaced. So, when you buy a sofa, always aim for the quality and not the price.