Having a pool is a great thing as it provides endless entertainment and social opportunities. Hosting a pool party with lots of inflatable animals, tasty cocktails and in the great company of friends and family is a fun way to escape the summer heat. When you're planning, keep in mind that the best thing about this event are the people, so keep things as simple as possible and make sure you prepare as much as you can ahead so that you are able to enjoy the party as well.
This post will provide you with the essential tips to host the ultimate pool party and keep everyone safe.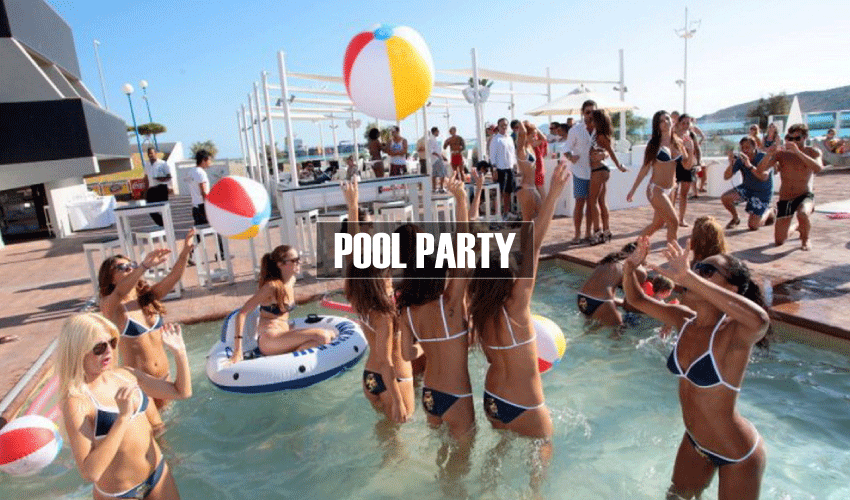 #Guest List
Write a guest list and send out invitation cards rather than an email or a text message. This way you can already set the vibe for your party and personalize the cards as printed versions are always more personal and a nice way to remember that fun day.
#Theme
Think of a fun motto for your pool party. The theme will definitely influence your guest's clothing, food and the type of drinks you're serving. Whether you choose the Hawaiian theme, a scene from a movie or simply Bad Taste to 70's Style, keep in mind that your guests will wear swimwear most of the time.
#Food
In hot weather, your guests will love a bit of fresh fruit such as watermelon, cherries or vegetable sticks. Finger food or a small barbecue with grilled burgers is always a good option to feel less bloated. Let your friends bring some side dishes such as fresh salad and tasty dips like tzatziki and hummus.
#Bar
Keep iced water stocked for your party people to stay hydrated and maybe infuse it a bit with sliced limes or mint and cucumber for flavour. Big Mason jars will add a vintage touch to your party and are great to serve summertime cocktails, freshly squeezed juices, lemonade or flavoured water in.
#Music
No party without music. As music is essential for the atmosphere, have a playlist sorted and ask your guests to add their favourite tunes to the party. Try using Bluetooth speakers to prevent people tripping over cables and keep all electronic devices far away from the pool.
#Decoration
Before you indulge in expensive decoration think about your motto. If you have a pretty deck all you need might be some paper lanterns and fairy lights, potted flowers and candles. White will always give an elegant touch and combined with bolder colours give a feeling of summer fun.
#Shade and bins
Always provide enough shade for your guests to cool off in the heat with either parasols or a little tent. Tables, bar and the buffet should also always be out of the sun. Keep plenty of bins around to prevent trash scattering around and stop people from stumbling over empty bottles and cans.
#Party Supplies
Try to get all supplies as early as possible as you might want to rent tables, bean bags or even fire bowls. Have extra sun cream, a first aid kit and towels at hand and plan to use disposable paper cups and plates for better clean up and safety reasons. If you want to make a barbecue, check the size of your grill with the number of guests invited.
#Safety
Safety at a pool party is extremely serious. You should always have a sober pool buddy watching the pool and rules should be no kids in the water unattended. Especially in combination with alcohol no diving should be practised, no horseplay and no jumping off the deck..
Read Also: