Regardless of what product or service you want to offer, the success of your business heavily relies on building your brand. Branding, as opposed to what most startup businesses think, is really all about selecting a catchy logo and choosing a great motto. But if you want to build it the right way, you should be passionate when it comes to planning, organization, and implementation. Otherwise, it would be impossible for you to convey your business' feel, style, and message.
To help you build your brand the right way, give these 6 tips a spin as they can help you big time!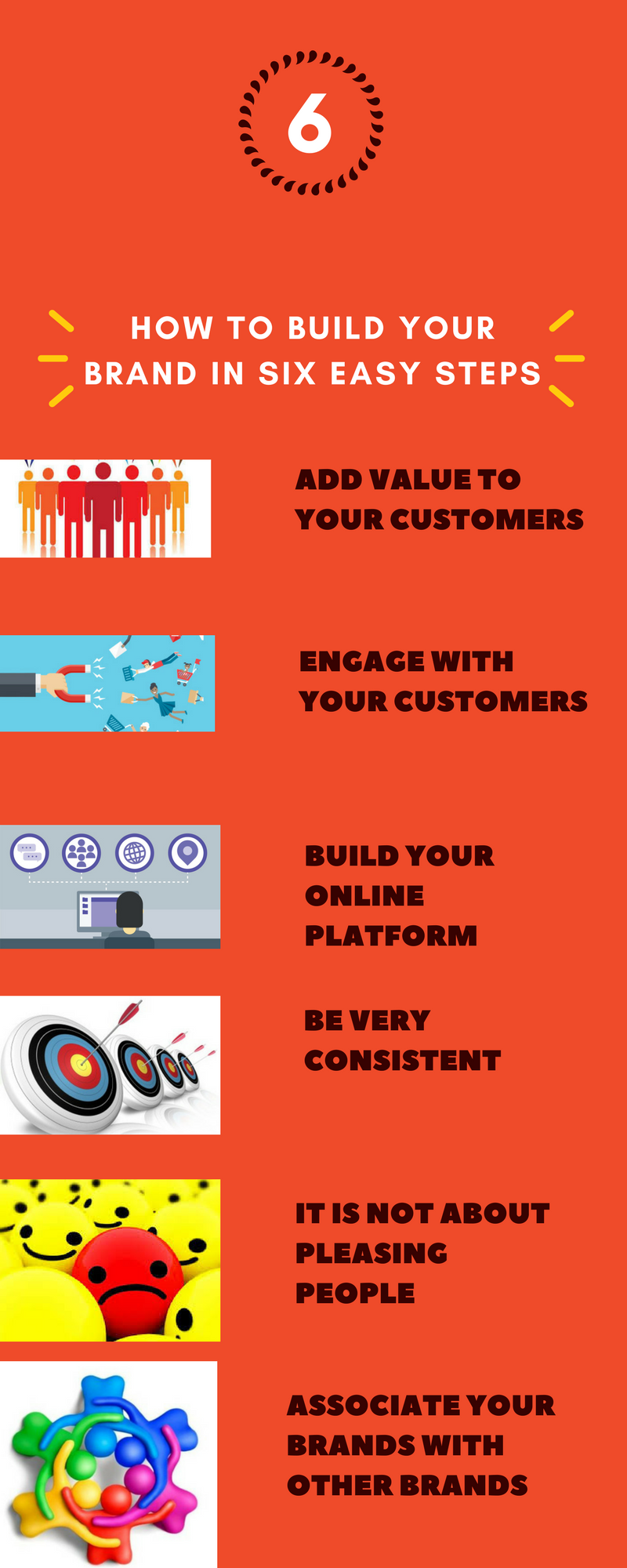 #1. Add Value to Your Customers
Sure, your goal is to provide products and services to as many customers as you can. But if you want them to be recurring clients, go beyond the call of providing. You have to give more, something that will effectively promote your brand as a whole. The idea here is to add value to your customers' lives, as these can help you build relationships with them in the long run.
Here are some ways you can go beyond  providing the basics:
Build an informative website.
Create blog posts to keep customers informed and updated.
Write email newsletters.
Offer discounts, promos, and deals.
To determine what is important to your customers, invest in research. Understand what your customers want and what matters to them the most. It is also vital that you learn what led to them purchase your products or services instead of your competitors'.
#2. Engage With Your Customers
Unlike in the past, business owners nowadays are lucky to have the Internet. The latter simply allows them to communicate with their customers in a plethora of ways. This is where you should engage your customers but not in a single platform only. Engage with them across as many platforms as you can. And make sure you do this with a strong online presence. Despite the benefits the Internet provides, do not forget using traditional advertising and marketing techniques, such as radio, television, and print media. You should use these to the best of your knowledge, though.
#3. Build Your Online Platform
As mentioned in the second tip, it is important that you build a strong online presence if you want to raise brand awareness. Building an online platform is simply about creating a blog or website, but to make it really effective, it must be packed with content. Although you need to engage your customers across multiple platforms, you can always resort to social media sites that suit you and your business.
Here are some pointers to keep in mind:
Always have a unique voice.
Create a memorable design.
Be authentic and empower your customers.
Come up with a slogan that conveys your mission and purpose.
Create an email list.
#4. Be Very Consistent
Do not just be consistent; be very consistent. Put yourself in the shoes of a customer and think about all the brands that you like or you are most loyal to. You earned their trust for one simple reason: They are dependable. Take Zappos for example:  Although they are in the business of selling shoes and clothing, they famously known for their unmatched customer service. Hence many consumers flock to their site to buy. The idea is to make sure that there is consistency. From communications to marketing to sales to after sales, your brand's story should be consistent in these channels.
#5. It is Not About Pleasing People
It holds true that you can never please everyone no matter what you do. This is why when it comes to building your brand you should not be "everything" to everyone. It is better to be the best business or brand despite to a very specific set of customers. At the end of the day, you are not in the business of pleasing people. You are here because you want to grow your business.
#6. Associate Your Brand With Strong Brands
Believe it or not, your brand's strength and weakness depend on the connection you have with other brands. This is why you need to find and leverage brands that are strong enough to elevate you. But, of course, make sure that this brand is somehow consistent with your business' vision, mission, and goals.